How To Make Icing Roses
You will need: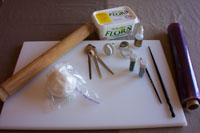 Roll out icing / Flower paste
A chopstick or minature rolling pin
Rolling pin
Cling film
White vegetable fat
Rose petal cutters
Leaf cutter & veiner
Spoons
Dusting Colours
A paintbrush
A plate
About Working with Icing
Icing will dry out very quickly. Double wrap any icing you are not using straight away. Use a small amout of icing at a time and use the cling film to cover any that you aren't handling.
If the icing does start to crust or crumble, you may be able to save it by rubbing a little of the white vegetable fat on and kneading it with a bit of fresh icing.
Make the Leaves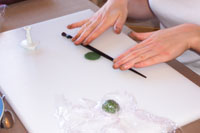 Colour a small amount of icing green. Pinch off a bit of the icing (a little more than a pea-sized amount) and cover the rest. Use the chopstick/minature rolling ping to roll out 1-2mm thick.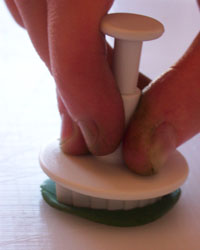 Use the leaf tool to cut and vein the icing.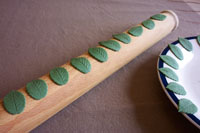 Leave them to dry. I put some of them on the rolling pin so that they dried in a curved shape.
Make the Flowers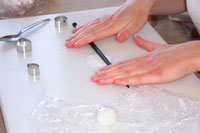 Roll out a piece of icing nice and thinly.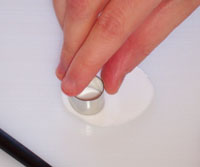 Choose your petal cutters depending on the size you would like the finished flower to be. I used the middle 3 sized from my set of 5. Start with the smaller cutter.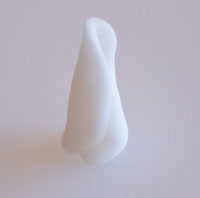 Roll the first petal shape up and model into a shape similar to that shown in the picture.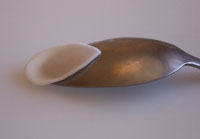 The rest of the petals will require a little more modelling into shape. You can pinch the edges to make them thinner. The spoons are useful here to help form the shape of the petals.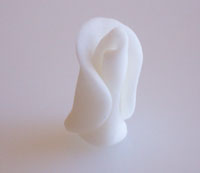 Wrap the second petal around the first one.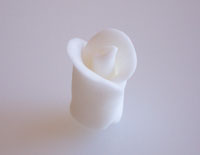 Do a third petal using the small petal cutter.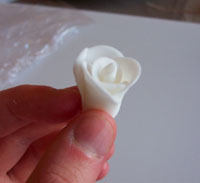 Now move on to a slightly larger petal cutter and continue building up petals on your rose.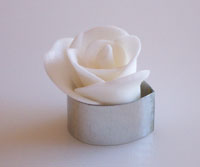 Once you've finished with the smallest petal cutter, you can use it to prop up the rose while you're rolling out the next petal.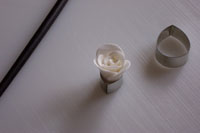 Keep adding more petals...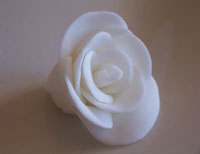 Use a bigger petal cutter for the outer layer of petals. Shape them so that they open out slightly.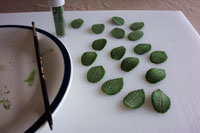 Once the flowers and leaves are dry, you can use the dusting colours to highlight the edges.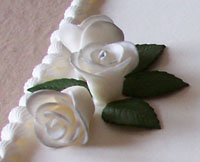 Position onto your cake and fix in place using a small blob of royal icing.