How To Make Perfect Pastry For Pies
Pies seem to be increasingly popular on pub menus and as ready made meals. In March we had British Pie Week and the British Pie Awards are in April. What better time to perfect your pie skills.
Strictly speaking, a pie's filling must be completely encased in pastry but with healthy eating in mind a modern pie sometimes has only a pastry top or bottom. Pies without tops are really tarts and pies cooked on flat trays are pasties. To complicate matters, some thin pies with a top and a bottom are tarts!
Whatever their name or shape, pies depend on perfect pastry for a good result and this recipe for basic Shortcrust Pastry is suitable for most every-day pies and is really easy to make providing you follow the rules.
Let's Begin
Use plain flour, white or wholemeal, or a mixture of both and place in a roomy bowl with a pinch of salt. (300g of flour will be sufficient for a medium sized pie).
Add half as much cold butter or baking margarine cut into cubes. Soft spreads are not suitable as they have a low melting temperature.
Rub the butter into the flour with the tips of your fingers, this won't take long and will give a much better texture than using a food processor. Take care not to over work it, it's ready when it looks like breadcrumbs.
Gradually add enough cold water to make a firm dough. This is the only tricky bit as different flours absorb different amounts of water. (Generally, 300g of flour will use 4-6 tablespoons of liquid.) Use a round bladed knife to bring it all together.
Rest the dough for 30 mins in a cool place covered with cling film. This will make it much easier to roll out.
Divide the pastry in two and use half to line the pie dish and the other half for the top. Make the pastry a little too big to allow for shrinkage. Lift the pastry gently using the rolling pin to support it and don't stretch it.
Make sure the filling is cold and fill the pie to within half a centimetre of the top. Brush the edges of the pastry with water to secure the lid and trim off the surplus.
Brush the top of the pie with beaten egg (to give a golden shine) and make a small hole in the centre to allow steam to escape.
Bake the the pastry until it is golden brown, dry and crispy at 200°C or Gas Mk 7,then lower the temperature of the oven to 160°C, Gas Mk 4 to finish cooking the filling.
Once you have mastered this basic recipe you will be able to make perfect pastry every time. Try out different shapes and fillings to create your own signature dish and invite friends round for a 'Pie Night'.
Making a pie on a plate will make a small amount of filling go further and feeds more people.
Try These Delicious Pie Recipes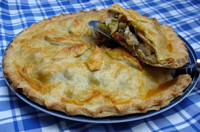 Chicken, Leek and Mushroom Pie on a Plate
Made with shortcrust pastry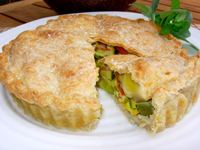 Made with parmesan pastry